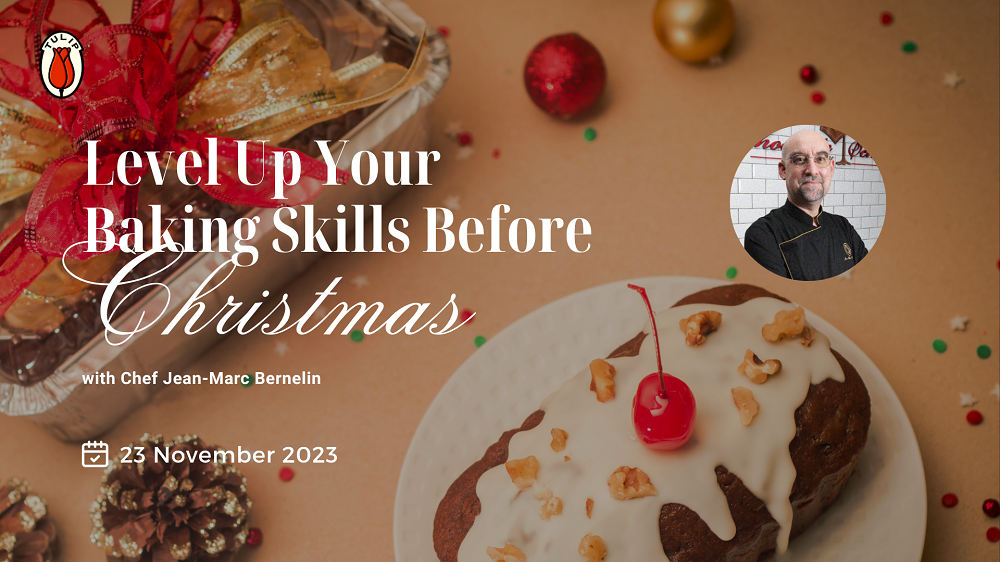 Are you ready to up your baking game just in time for the most wonderful time of the year?
Join us for a delightful and informative webinar, "Level Up Your Baking Skills Before Christmas." Whether you're a seasoned baker or just dipping your fingers in the flour, this event is your key to becoming a holiday baking superstar.
Join this webinar on Thursday, 23 November 2023
2-4 PM Jakarta, Indonesia Time

3-5 PM Manila, Philippines Time

3-5 PM Singapore Time

3-5 PM Kuala Lumpur, Malaysia Time



Joined by our friendly experts, Chef Jean-Marc Bernelin and Arvid Yap from Tulip Chocolate, you will learn:
1nsider tips and tricks that will give you the confidence to create delectable cakes and pastries that will steal the show at your festive gatherings.

New recipe inspiration and techniques that can spark your imagination and help you design unique and visually stunning baked goods for the holiday season

By attending our webinar, you will have the chance to get free access to our Tulip Chocolate Online Course that you can recreate at home
Don't miss this opportunity to add a dash of homemade magic to your Christmas celebrations.
Register now and let's embark on a baking adventure that will leave your taste buds singing "Jingle Bells"!