Our Tulip Chocolate consultant in the Philippines will be happy to provide a consultation call about our Tulip chocolate products for your baking and dessert needs.
If you require a price quote for any of our couverture chocolate and compound chocolate products, our Tulip consultant will be happy to help. Simply fill out the form and we will get back to you quickly.
Fill out the form to download our product brochure, get a free consultation or sign up to newsletter
We provide dark chocolate, milk chocolate and white chocolate products. Our chocolate products can be used to make virtually any dessert, confectionery or sweet baked goods that you can imagine such as:
- Chocolate Filling for Cream Puffs
- Chocolate Almond Profiteroles
- Dark Chocolate for Cakes
- Chocolate Chips for Cookie Ingredients
- Couverture Chocolate for Desserts and Baking
- Chocolate Syrups, Chocolate Pastes and Fillings for Breads and Ice Cream

If you are looking for a chocolate supplier in the Philippines for your HoReCa business then fill in the form and our consultants will be happy to get in touch with you to discuss your chocolate product needs.
Tulip Chocolate is a brand that has over 2 decades of experience making compound and couverture chocolate products that are specifically designed for the foodservice business in the Philippines. We are trusted by over 10,000 foodservice HoReCa businesses in The Philippines and across the Asia Pacific region.
Our
Tulip Chocolate
Product Range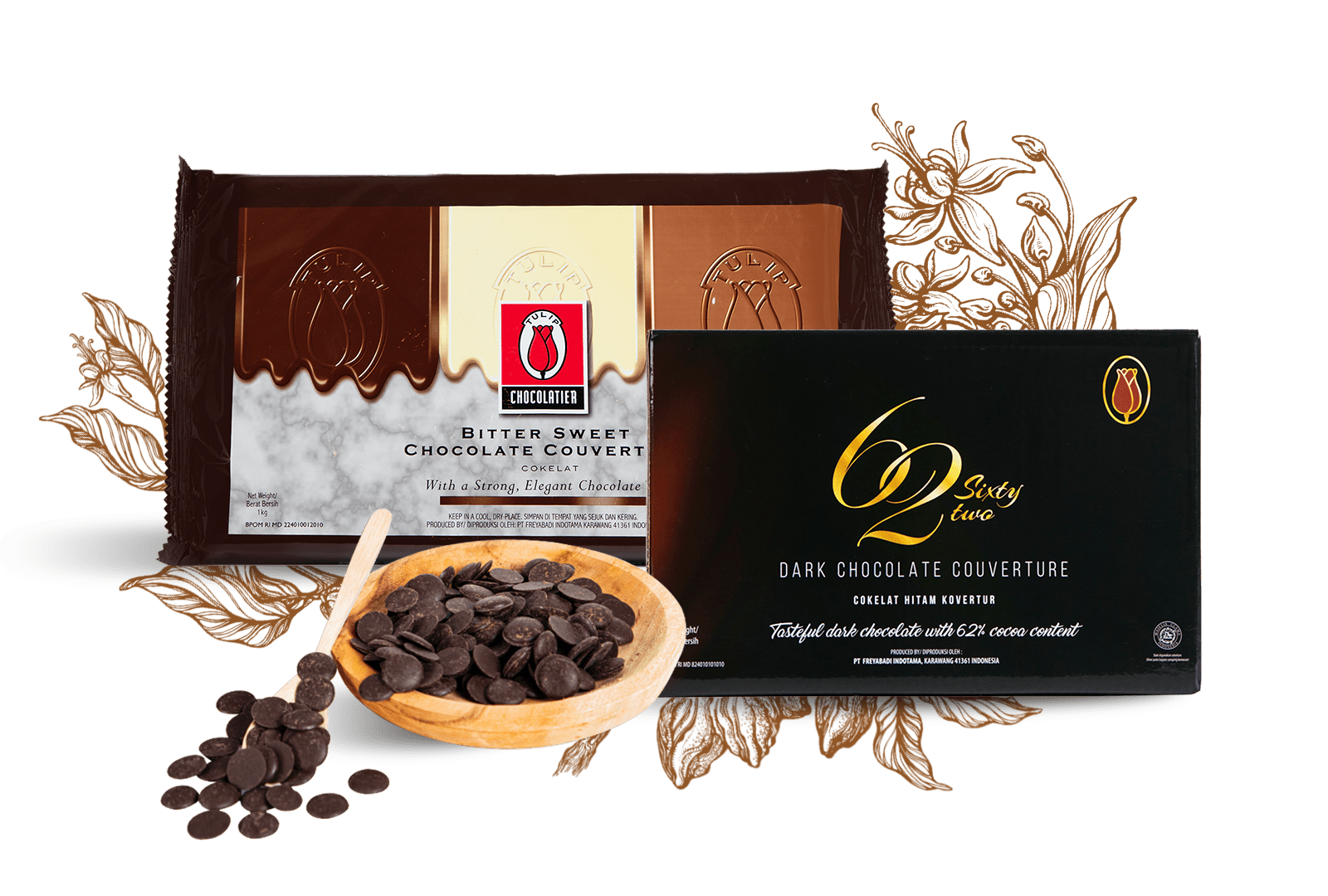 Couverture Chocolate Series
Our couverture chocolate comes in the form of 62% dark chocolate couverture coins, a Bitter Sweet Chocolate Couverture block and a milk couverture chocolate truffle shell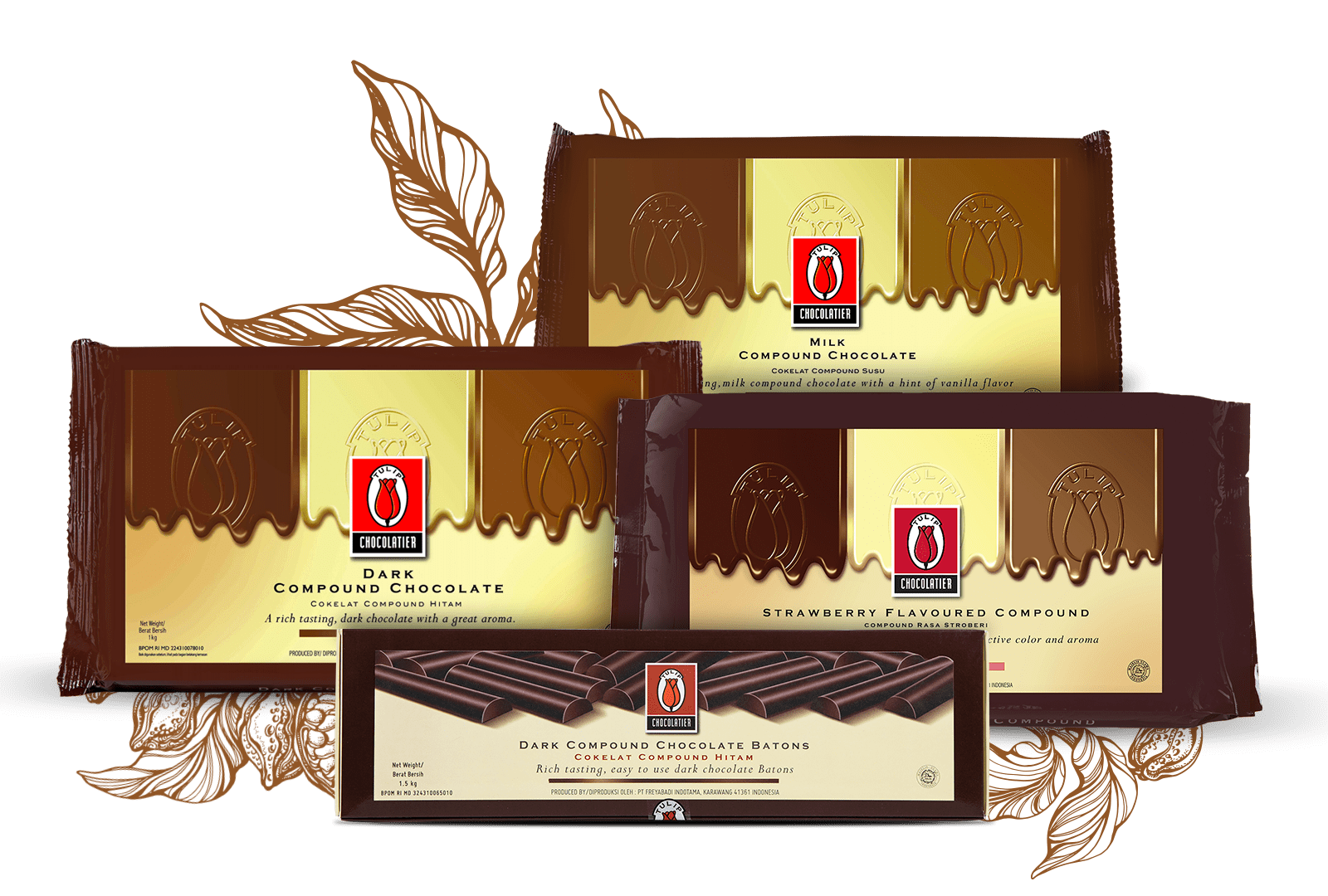 Compound Chocolate Series
Tulip Chocolate has a wide variety of compound chocolate products to suit virtually any of your culinary creations, at a much more affordable price.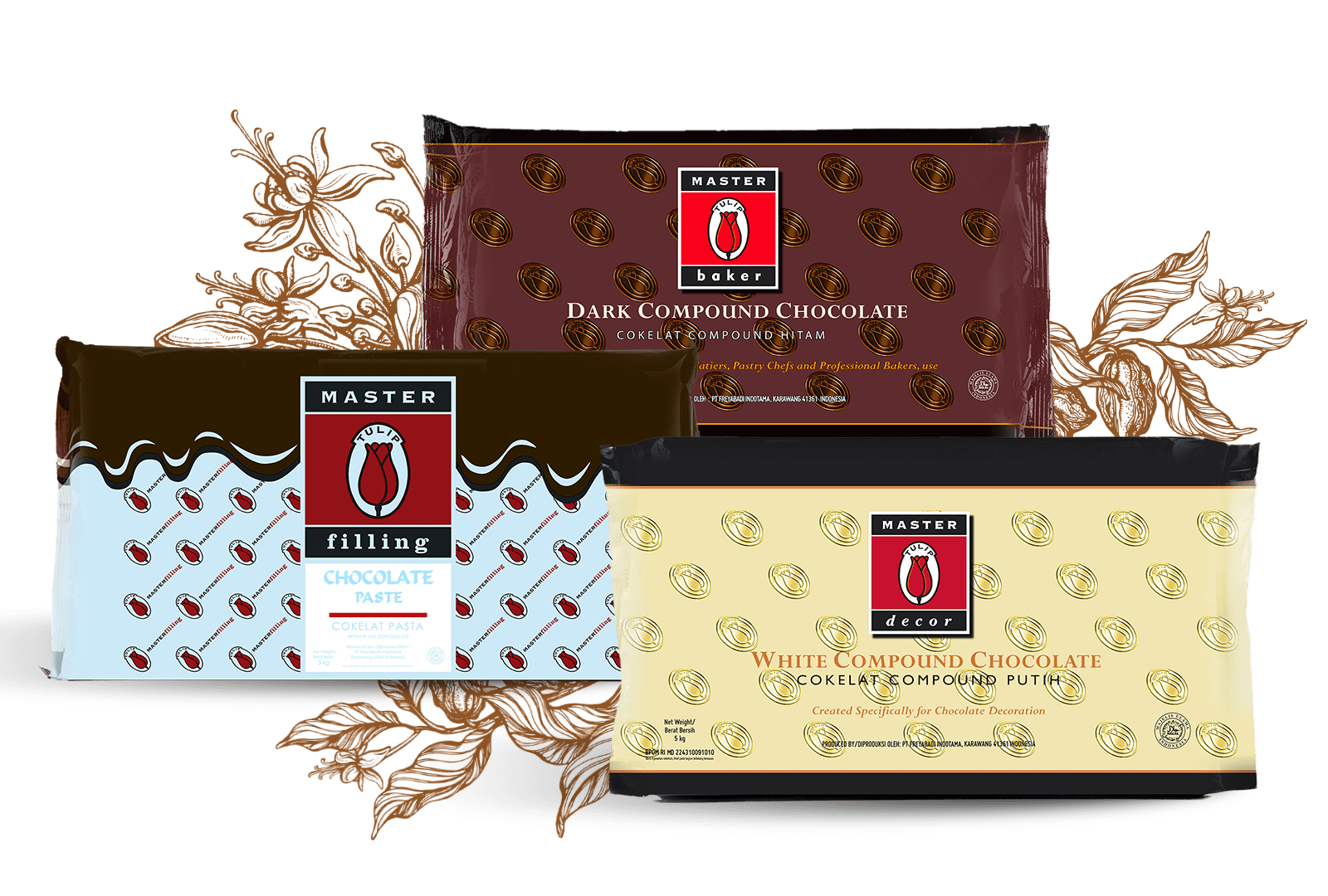 Master Series Compound Chocolate & Fillings
The Master Series are 5kg chocolate block products for businesses and cooks who require larger amounts of chocolate blocks, fillings and decoration at a more affordable price.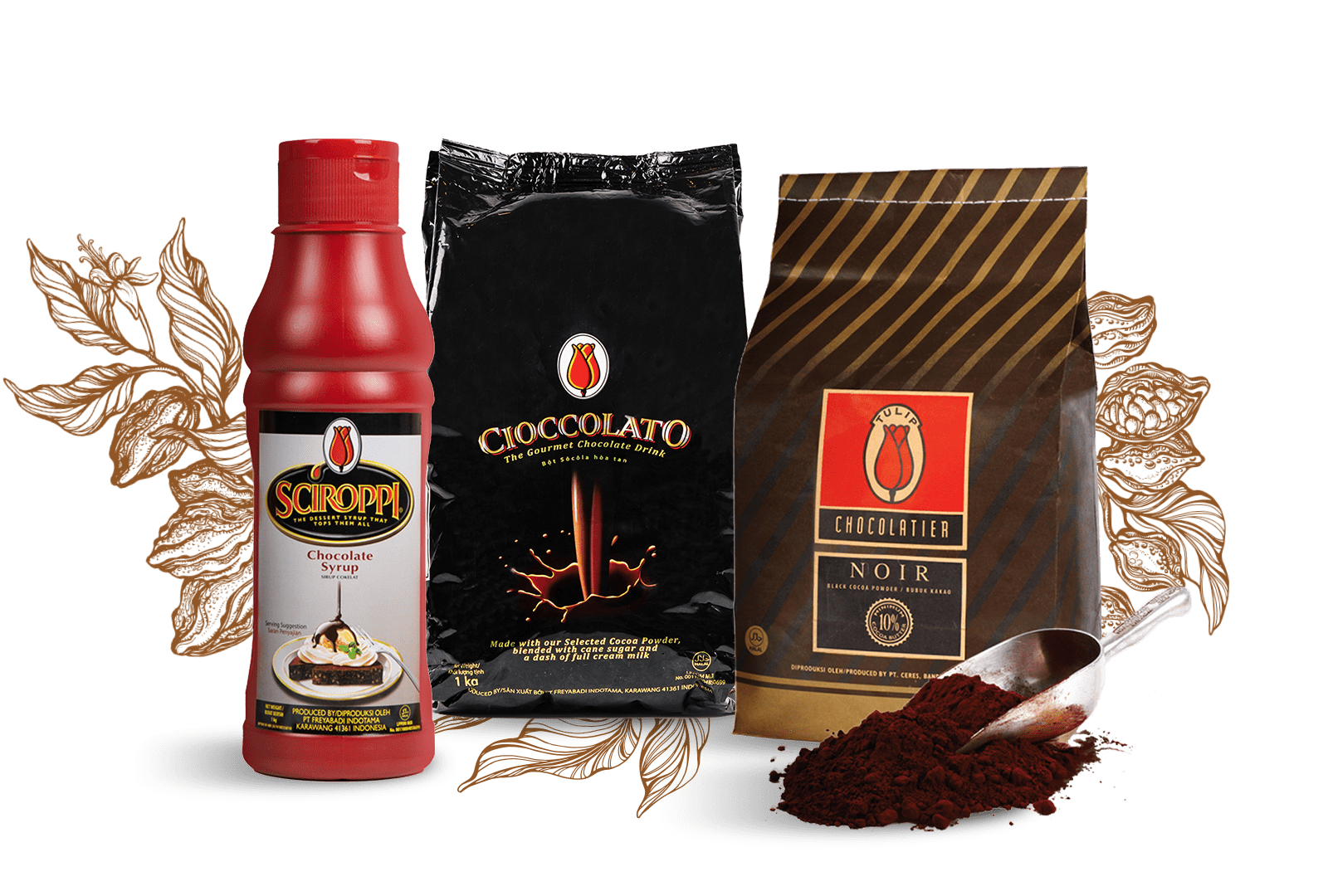 Cocoa Powder & Chocolate Syrup
Tulip has a range of three varieties of cocoa powders each with different flavor characteristics and fat content to suit your various baking, pastry and ice cream needs.

Cioccolato is a chocolate powder mix that is ready to drink by simply adding water.
Sciroppi is a ready-to-use chocolate syrup that can be used as a topping and does not harden on ice cream and other cold desserts, staying soft and fluid.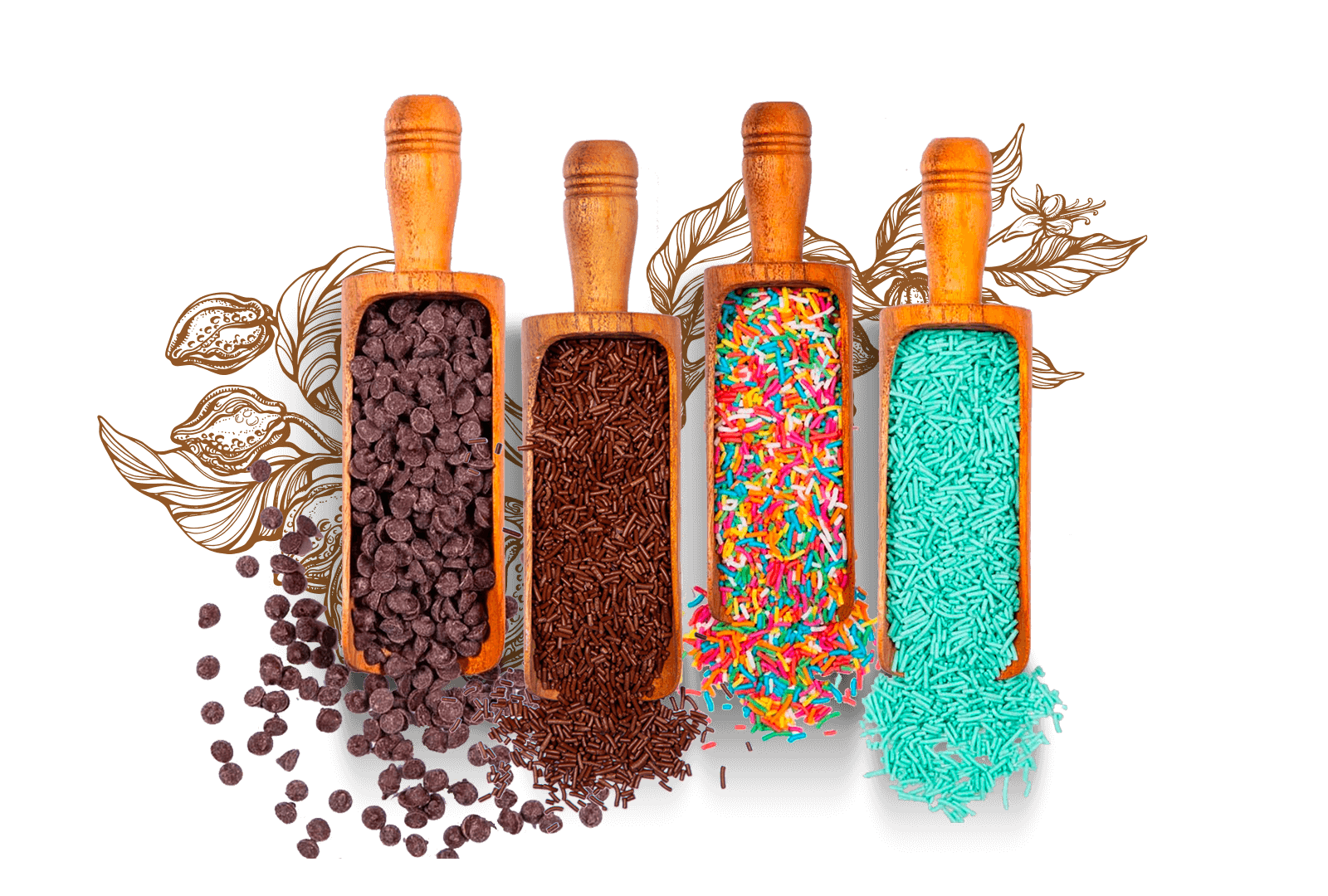 Chocolate Toppings & Decoration
Our chocolate toppings and decorations will add a visual as well as tasty element to your desserts, bake and cake creations.
Benefits of Using
Tulip Chocolate
Tulip Chocolate is more than just a "chocolate product" that you buy in-store. Our aim is to help foodservice professionals in the Philippines create delicious and beautiful creations for their bakeries, restaurants, hotels and cafes. We want our customers to be able to leverage our 25 years of experience that we have in the foodservice industry.

Benefits of using Tulip chocolate products and joining our community:

Food Service Trend Updates
We have regular online seminars (webinars) covering relevant trends for your HoReCa business, learn about innovative new customer trends and how to leverage online marketing to grow your foodservice business.

Technical Service
Leverage the expertise of our in-house pastry chefs through our social media, consultants, online Q&A sessions and upcoming webinars.

Free Consultation
Our consultants can provide recommendations on the most suitable Tulip product for your cooking applications.

A Distribution System across Asia
We have a distribution system across Indonesia, the Philippines, Malaysia, Singapore, Brunei, China, Hong Kong, Myanmar, Taiwan, Vietnam.
What Some of Our Customers are Saying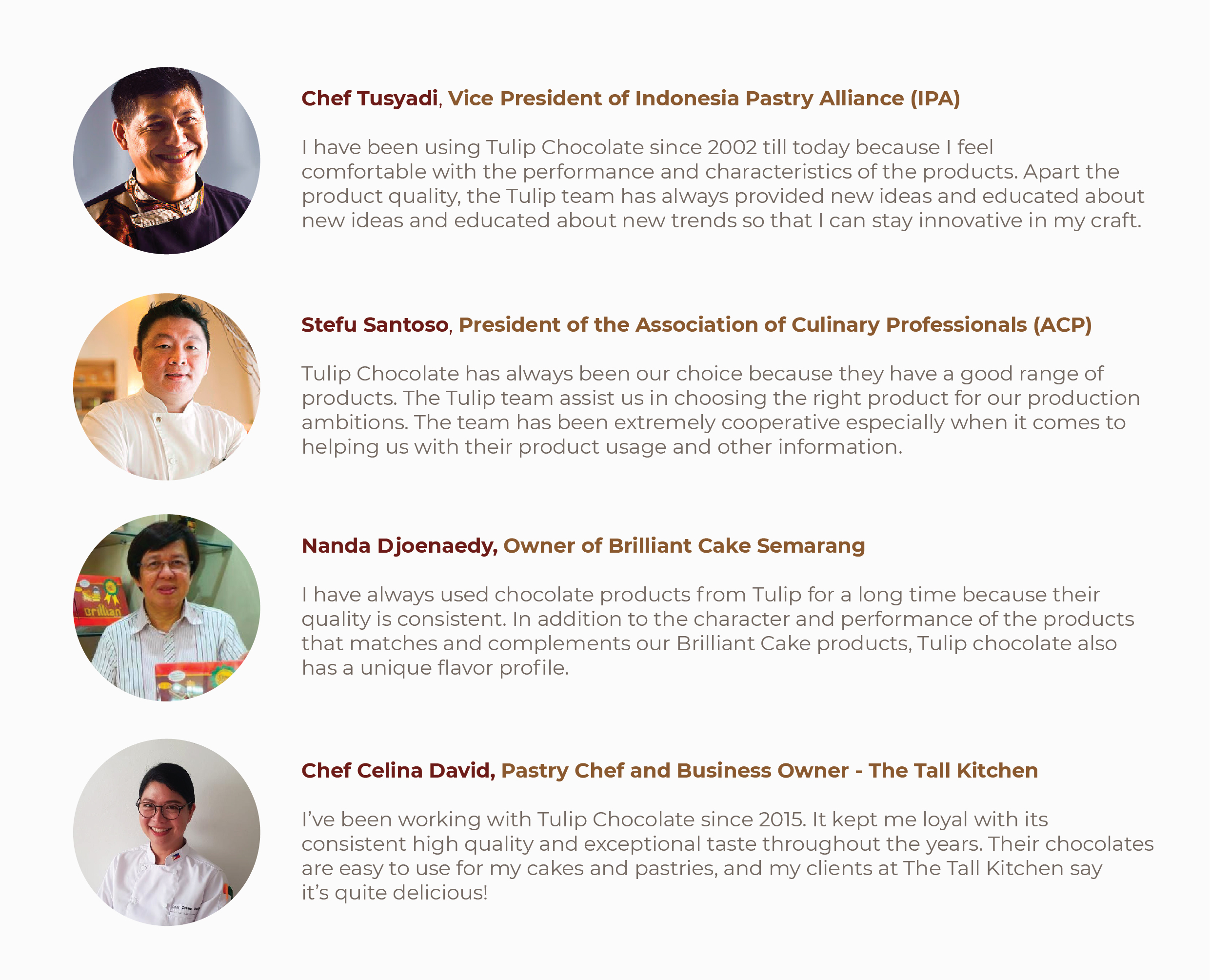 Get in touch with our chocolate supplier in the Philippines
Would you like one of our consultants in the Philippines to contact you for a free consultation? Click the button below.
About
Tulip Chocolate
Tulip Chocolate is a chocolate brand under PT Freyabadi Indotama chocolate manufacturing company of 25 years and that has one of the largest capacity capabilities in Asia and that has state of the art machinery and processes to create consistent high quality chocolate products.
We work with direct suppliers of imported chocolate in the Philippines. Tulip Chocolate is a brand that is the primary choice for chocolate in the foodservice HoReCa businesses that supplies chocolate products across Asia.
Standards & Certifications