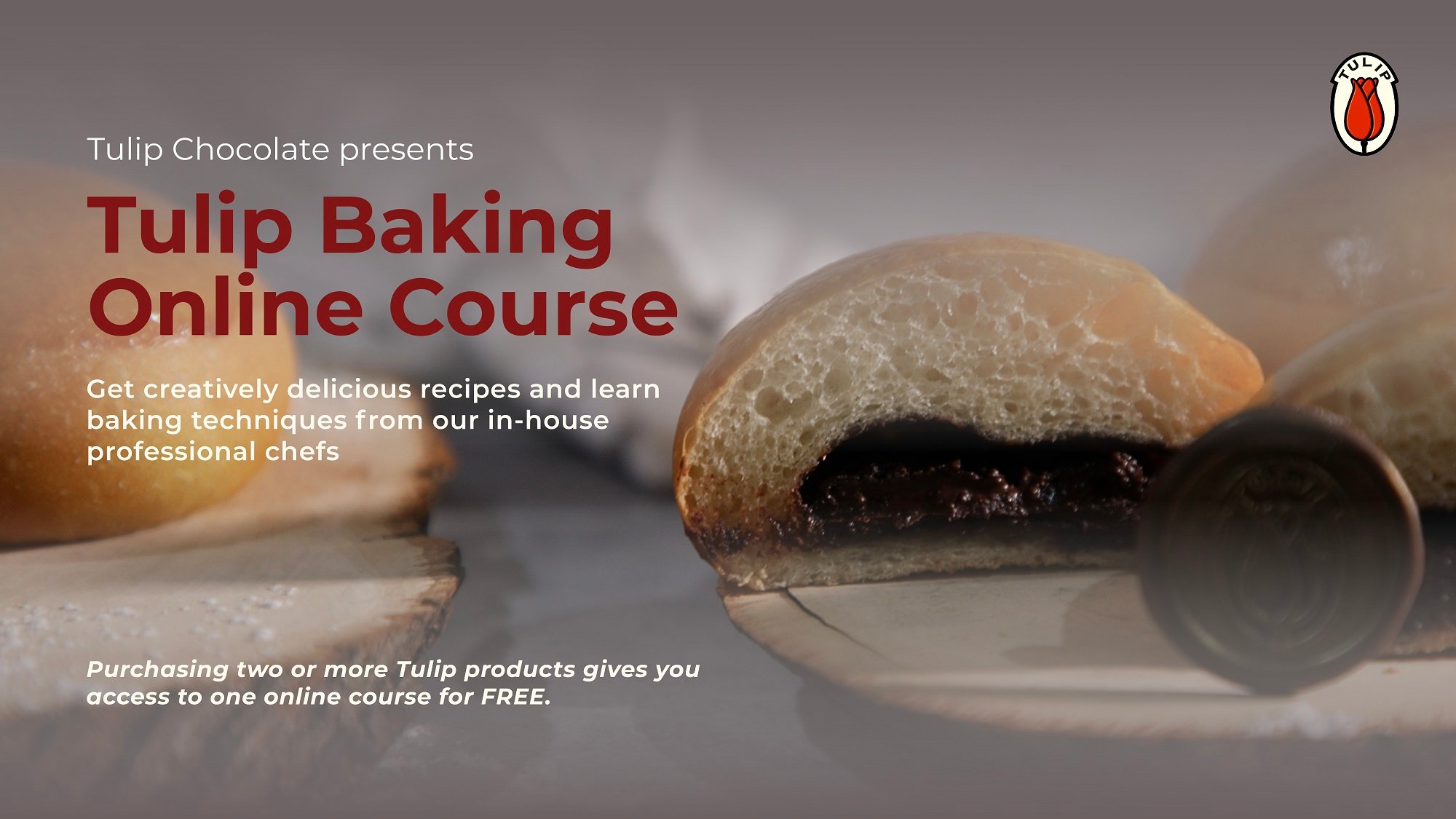 Purchasing Only Two Tulip Products Gets You Access to an Online Baking Course
1. Take a picture of your payment receipt (Offline and online purchases are allowed)
2. Fill out the form with your valid details
3. Choose which course you'd like to access:
Level Up Your Baking with Tulip Choco Chunks and Chips

Level Up your Baking with Tulip Chocolate Paste, Tulip Hazel Delight and Tulip Choco Cream

Both Courses (NOTE: Purchasing 4 or more Tulip products gets you access to both courses)



4. Upload your receipt that clearly shows at least two Tulip Products.
5. The Tulip Chocolate team will need 1-3 working days to review your submission to see if it meets our terms & conditions. Once approved, you will receive an email with the access link to your chosen online baking course.
*See terms & conditions below

Learn At Your Own Pace
Watch and re-watch all lessons as many times as you want and download the full recipe document to help you create all our delicious chocolate recipes.

Watch Our Videos From Your Phone or Laptop
Watch our online baking course videos while on-the-go! use your smart phone or laptop to watch our video lessons
Interactive Online Courses
Have a question about any of the video lessons or recipes? Through our online course platform you can ask questions to any of our chefs. It's like having a conversation with them!
Terms and Condition
- Any valid receipt made from your purchase is required
Purchase a minimum 2 of any 1 kg or above Tulip Chocolate products to claim access to Course 1

Purchase a minimum 4 of any 1 kg or above Tulip Chocolate products to claim access to Courses 1 and 2
- Upload your payment receipt and click Enroll Now to proceed
- You will receive a confirmation email from Tulip Chocolate as soon as you have filled out the form
- Once your receipt validity is reviewed and approved by the Tulip team, you will receive an email with links to the course(s) (max. 3 working days)
- You are required to fill out the form with valid information
- Any repackaged products and/or below 1kg are not eligible to join the program
- Any payment receipt that you made less than a year is valid to join the program
- This program is open for public
- You will get 12 months access from the moment you first sign into our online course platform
- By participating in this program, participants agree to the terms and conditions that apply
- We reserve the right to amend or cancel any of your receipt submissions if found invalid
What's Inside the Tulip Online Baking Courses?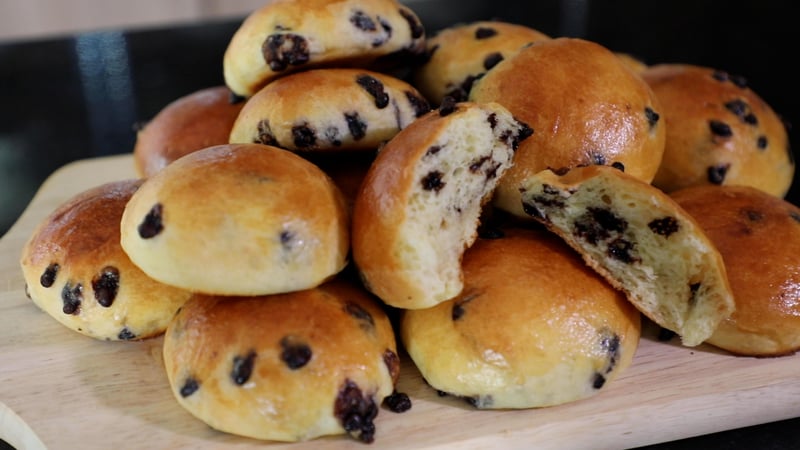 Level Up your Baking with Tulip Choco Chunks & Chips
This course focuses on lessons that cover the Tulip Choco Chips and Choco Chunk products and how you can creatively use them in both baking and non-baking recipes. We have a variety of easy and intermediate lessons that are extremely simple to follow with our video lessons using ingredients that you can find in your regular supermarkets and baking supply stores.
Pear Crumble Choco Chips
Mug Cakes
French Toast
Brioche Choco Chips Cookies
American Cookies
Oatmeal Choco Chip Cookies
Chocolate Brownie
Es Kacang Merah
Level Up your Baking with Tulip Chocolate Paste & Cream
This course is full of useful information about our chocolate paste and filling products in easy-to-follow recipes that will make you a baking superstar at home! The course has delicious chocolate baking and confectionery recipes that you will be able to recreate in a home or professional kitchen.
Lemon Chocolate Sponge

Chocolate Cookies Two Ways

Homemade Donuts with Tulip Choco Creams

Madeline Filled with Tulip Hazel Delights

Snobinetes

Japanese Milk Chocolate Bread

Simple Chocolate Travel Cake

Simple Chocolate Hazelnut Travel Cake

Orange Almond Biscuit

Chocolate Hazelnut Travel Tart + Creme Brulee Chocolate Tart
FAQ (Frequently Asked Questions)
If I buy 2 Tulip products, can I choose Course 2 instead of Course 1?


No, you cannot. You have to buy minimum 4 products to claim access to Course 2

If I buy 4 Tulip products, what are the courses I can get?


You can get both of courses, course 1 and 2 if you buy 4 products

If I buy 4 products on different days, for example I buy 2 products on Monday and 2 products on Friday, what can I get?


You can get both courses, course 1 and course 2 as long as you include the first payment receipt when submitting your details for the second time. So, you will have to submit 2 different receipts

If I buy 2 Tulip products, 1 product is 250 gram and the other one is 1kg packaging, Will I be eligible to join the course?


No, you will not be eligible. You have to purchase minimum 2 of any 1kg or above Tulip Chocolate products to claim access to Course 1 and minimum 4 of any 1kg or above Tulip Chocolate products to claim access to Course 1 and 2

If I submitted 2 Tulip products and on the next day, I submitted another 2 products, what are the courses that I will be getting?


You will be getting Online Course 1 and Online Course 2.

Can I use a receipt from last month's purchase?


Yes, you can. The receipt that is less than a year shall be valid.

How long do I have to wait to get access to the course once I have submitted the receipt?


Once your receipt validity is reviewed and approved by the Tulip team, you will receive an email with links to the course(s) (max. 3 working days)

Can I use different email addresses when submitting details and receipts?


No, you can't. You have to use the same email address as the one you have submitted before. We will only be sending the course links to an email address that is valid and active,